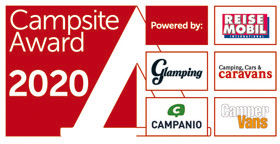 At this year's Campsite Award ceremony, which was presented by DoldeMedien Verlag, three KNAUS campsites made it into the top 3 in various categories and one even made it to 1st place.
This year again, several KNAUS camping parks took part in the race for the much sought-after Campsite Award 2020. This industry prize for camping entrepreneurs honours innovative concepts for campsites in various categories and was awarded this year for the fourth time by the DoldeMedien Verlag. However, the vote at this award ceremony is not taken by a jury but by the readers of the magazines Camping, Cars & Caravans, Reisemobil International, CamperVans and Glamping as well as the guests of the respective camping parks. The competition was strong, with more than 100 participants. We are therefore all the more pleased that we achieved a placement among the top 3 with three parks:
KNAUS Campingpark Walkenried in the category "Leisure activities for children
In this category, the varied leisure activities for guests between 0 and 14 were evaluated. Here, our KNAUS Campingpark in Walkenried was able to assert itself against numerous competitors and took third place. It convinced with its new playground and a varied and colourful animation programme for our young guests.
KNAUS Camping- und Ferienhauspark Rügen in the category "Location and recreational value" and in the category "Location beach and sea
KNAUS Camping- und Ferienhauspark Rügen was able to convince in two categories. Due to its fantastic location on a high plateau directly on the Baltic Sea, which overlooks the park guarantees a relaxing and wonderful holiday. This earned it second place in the category location and recreational value. Due to this location and its direct access to the beach, we are especially proud that the park took first place in the category Location Beach and Sea.
KNAUS Campingpark Koblenz in the category "Restaurant and Gastronomy
In this category, the most important thing was to score points with high-quality cuisine and a well-rounded and well thought-out gastronomy concept. Here the KNAUS Campingpark in Koblenz made it to third place.